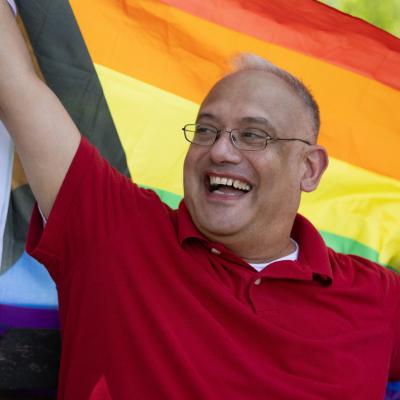 Photo Credit: DJ Pulce [2023]
Jon Santos
2023 Grand Marshal
Pronouns: He/Him/His

Jon Santos is Part-Native Hawaiian, born and raised on O'ahu, Hawai'i, and has been in HIV/AIDS fundraising and events in Atlanta for 26-years. 17 of those were at AID Atlanta—the Southeast's oldest and one of the largest and most comprehensive AIDS service organizations.

Jon produced seven AIDS Walk Atlanta campaigns and successfully transitioned from producer to beneficiary. Jon currently serves as Director of Fundraising and Events. Jon has, from time to time, been charged with communications, social media and advocacy. In addition to AID Atlanta, Jon worked at The NAMES Project Foundation AIDS Memorial Quilt, Atlanta Interfaith AIDS Network, and Jerusalem House. Jon has been active with Joining Hearts for more than twenty-years, starting as a volunteer in the bag check room, and growing to Board President, and finally, Patron and Advisory Counsel. Jon also has volunteered with AV200, The Toy Party, Front Runners, Atlanta Pride Run, amongst others by providing fundraising and development advice, training and special event counsel.

Jon credits his quest to be a man for and with others from Francis and Gayle--his parents--and his Jesuit and Marymount Undergraduate and Graduate education programs at Loyola Marymount University in Los Angeles, California. Jon is Papa-Jon to Dora, his feline fur baby.