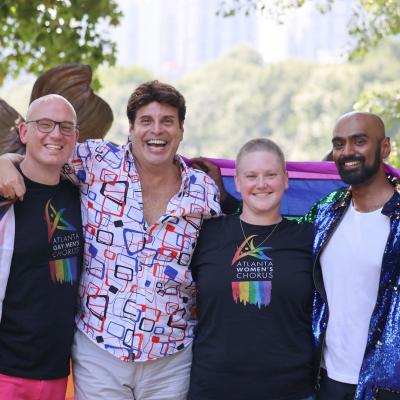 Photo Credit: Atlanta Pride Committee [2023]
Voices of Note
2023 Grand Marshal
Organization

Voices of Note, Inc. (The Atlanta Gay Men's Chorus and Atlanta Women's Chorus) passionately advocate for diversity, acceptance, and positive change through its organization. This dedication informs every facet of our work and has earned us recognition here in the Atlanta performing arts community.

Our commitment to embracing diversity serves as the cornerstone of our mission. We create a safe and inclusive haven where LGBTQ+ individuals and allies can unite in their shared love for music. This chorus magnificently showcases the broad spectrum of LGBTQ+ identities, fostering a vibrant tapestry that reflects the community's richness and diversity.

Our performances wield profound symbolism, standing as powerful tributes to identity, unity, and resilience. Through our performances, we inspire audiences to embrace their uniqueness and celebrate differences, instilling a sense of pride and self-acceptance.

Our future commitment is equally resolute. We plan to continue sharing diverse perspectives, inspiring audiences, and using our platform to champion acceptance and equality. That being said, we believe our unwavering dedication to fostering positive change LGBTQ+ communities position us as worthy nominees for the Grand Marshal position at the 2023 Atlanta Pride Parade.