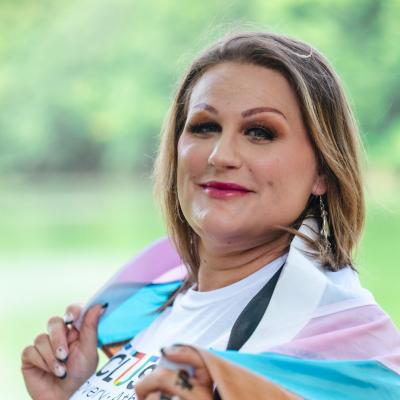 Photo Credit: DJ Pulce [2023]
Danielle Bonanno
2023 Grand Marshal
Pronouns: She/Her/Hers

Danielle Bonanno is the Executive Director of Inclusive Recovery Athens, a recovery community organization based in Athens, Georgia. She has been an advocate for various oppressed and stigmatized populations, including those with substance use disorders, LGBTQIA2S+, homeless and low income, and individuals with complex traumas. Danielle has dedicated her life to bridging the gap between the queer community and the recovery community, educating addiction professionals on how to serve LGBTQIA2S+ populations in a trauma-informed and culturally-affirming way.

With an impressive background in corporate and nonprofit lead generation, Danielle possesses a unique skill set that enables her to establish meaningful connections and cultivate an extensive referral network. She leverages her expertise as a master storyteller to identify and capitalize on funding opportunities, resulting in the creation of impactful and highly competitive grant proposals.

Beyond her role at Inclusive Recovery Athens, Danielle plays a pivotal role in enhancing the lives of individuals in the greater Athens area as the President of Athens Pride and Queer Collective, the foremost nonprofit organization in Northeast Georgia dedicated to promoting the well-being of queer individuals through education, outreach, event curation, and support. Her exceptional leadership, in collaboration with esteemed individuals such as Cameron Harrelson, President Emeritus of Athens Pride, Mayor Kelly Girtz, and Commissioner Mariah Parker, played a crucial role in advocating for the official recognition of ""Trans Day of Remembrance"" as a local holiday.

Danielle's impactful contributions have garnered recognition from esteemed organizations, including being honored as one of the top 10 leaders under 40 in Athens-Clarke County by the Athens Area Chamber of Commerce in 2022. Furthermore, her accomplishments were acknowledged by the Georgia Voice, which named her one of the six LGBTQ leaders in the world to know.

In her personal life, Danielle enjoys pursuing her passion for writing and cherishes quality time with her two dogs, Blueberry and Hershey. Through her unwavering commitment to inclusivity, advocacy, and leadership, Danielle continues to make a profound impact in transforming communities and promoting the well-being of marginalized individuals.