SPONSOR PRIDE
With approximately 300,000 patrons in attendance each year, Atlanta Pride provides numerous marketing and branding opportunities for businesses. Sponsoring Atlanta Pride is a great way to market & gain visibility in the LGBTQ community. Sponsoring levels begin at $250 for our Small Business Partners and $5,000 for our Corporate Sponsors, and the benefits vary based on the level of contribution. Sponsorship dollars go directly into the general operating budget for the Atlanta Pride Festival.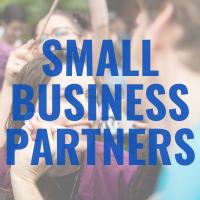 Small Business Partnership
No matter your size, you can partner with Pride!

Our Small Business Partners help to make up the majority of the Marketplace and the Parade! Without them, the Atlanta Pride Festival and Parade would be pretty dull. When you become an Atlanta Pride Small Business Partner, we not only work with you through the festival, but year round to make sure your business is promoted through out our channels to the LGBTQ+ community. So show your support of the LGBTQ+ community and become an PROUD Atlanta Pride Small Business Partner. There's a level that's right for you!
Onyx Partners
Benefits Include: Business Recognition, VIP Event Access, Event Participation Discounts
Pearl Partners
Benefits Include: Increased Business Recognition, Increased VIP Event Access, Event Participation Discounts
Amethyst Partners
Benefits Include: Increased Business Recognition, VIP Event Access, Increased Event Participation Discounts
Garnet Partners
Benefits Include: Increased Business Recognition, Increased VIP Event Access, Increased Event Participation Discounts
Emerald Partners
Benefits Include: Increased Business Recognition, Increased VIP Event Access, Increased Event Participation Discounts
Sapphire Partners
Benefits Include: Increased Business Recognition, Increased VIP Event Access, Increased Event Participation Discounts

Corporate Sponsorship
Rainbow Sponsors
Diamond Sponsors
Platinum Sponsors
Gold Sponsors
Silver Sponsors
Bronze Sponsors