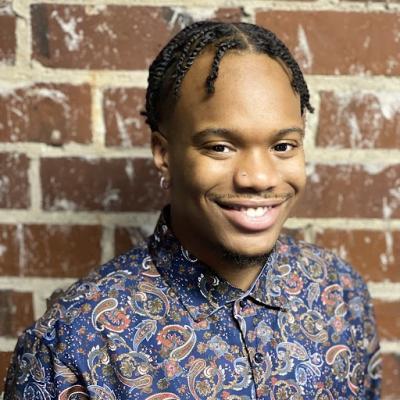 Photo Credit: Atlanta Pride Committee
Dequadray White
Program & Volunteer Coordinator
Pronouns: He / Him / His

Black, queer, interdisciplinary artist, Dequadray White, found his voice in art at a very young age. Raised in South Atlanta, he became affiliated with the Boys & Girls Club of Metro Atlanta, Alliance Theater Teen Ensemble, and 100 Black Men of South Metro Rites of Passage Academy which exposed him to nontraditional career opportunities, provided artistic/professional mentorship, and invested in his creativity. As a child, Dequadray dreamed of performing and creating art to heal people and these organizations led him to see that it was possible to pursue it as his vocation.

Dequadray has since graduated from the University of Wisconsin - Madison with a Bachelors of Science in the Arts and a Certificate in Afro American Studies. He was awarded a full tuition scholarship as a part of the tenth cohort of the Office of Multicultural Initiatives First Wave Scholarship Program. During his time in Madison, he sought to enact change on campus and the greater community. As a student, Dequadray held the position of the Crossroads Initiative intern at the Gender & Sexuality Campus Center and Secretary for the Wisconsin Association of Black Men. In these positions, Dequadray created events and held spaces for marginalized populations to build community on a predominantly white campus. As an artist, Dequadray created two full length music projects that were covered by the Isthmus, Tone Madison and Madison Magazine. Performing for Free the 350 Bail Fund, the Urban League, and Madison's annual pride festival, Dequadray helped raise funds and resources for underrepresented communities.

As Dequadray continues to create across mediums, he becomes more focused on envisioning a more just world. Using radical imagination and centering the voices of those most marginalized, he strives to be the change he wants to see and challenges all he encounters to inquisite further than their indoctrination. From his marrow, he believes it is our responsibility to demand liberation and joy for ourselves, families, and community, to use our power to conjure a place without inequities.