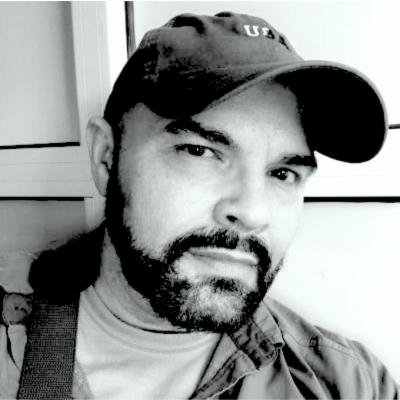 Photo Credit: Atlanta Pride Committee [Aryc W. Mosher]
Aryc W. Mosher
In Loving Memory
Board Vice Chair
Preferred Pronouns: He / His / Him
Director Status:In Memoriam
Current Term: Second (2nd)

The Atlanta Pride Committee mourns the loss of Aryc W. Mosher (1967-2023), vice chair of the Atlanta Pride Committee's board of directors. Aryc was a caring and passionate person who dedicated his career to improving the health of others. Serving the Atlanta Pride Committee for more than fifteen years, Aryc was a devoted volunteer and board member, deeply committed to Atlanta Pride's mission and vision. We will miss his incredible warmth, kindness, humor, and love for Pride. Our thoughts are with his partner Ken, his family, and friends.

Since late 2016, Mr. Aryc W. Mosher has been a Senior Technical Advisor within the Neglected Tropical Disease branch at U.S. Agency for International Development where he supports portfolio investments in trachoma elimination. He technically supports implementing partners in their alignment with the World Health Organization's strategy to eliminate the disease as a public health problem. Aryc also serves as a participant observer to the International Coalition for Trachoma Control, the Trachoma Elimination Committee and the Global Elimination of Trachoma by 2020 donor group.

Prior to USAID, Aryc contributed to investments in lymphatic filariasis, Guinea worm disease, and new diagnostic tool developments and partnership building within the London Declaration framework at the Bill & Melinda Gates Foundation. Aryc also spent nine years at The Carter Center in various management roles. He served as a Resident Technical Advisor to the National Guinea Worm Eradication Program in Ghana and was later promoted to the position as the Assistant Program Director to assist in the overall operations for the Guinea Worm Eradication Program in Atlanta. During his tenure there, he moved to similar management positions for the malaria and trachoma control programs.

Prior to that, Aryc worked for a non-profit agency dedicated to improving the quality of life (health, education, and employment opportunities) for migrant and seasonal farmworkers throughout Michigan.

Aryc holds an MPH in epidemiology from the University of Michigan.

Aryc has served as the Assist Director for the Lesbian Gay and Bisexual Student Group at Michigan State University, as well as volunteered for the Atlanta Pride Committee on the Creative & Graphics Team in 2007, before he served his first career as a Director on the Atlanta Pride Board from 2007 - 2013. He is now serving his first term as the Vice Chair of the Board of Directors of Atlanta Pride.