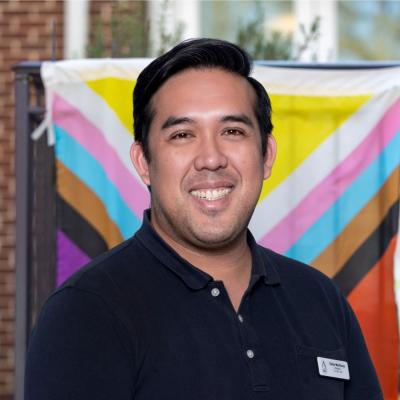 Photo Credit: Atlanta Pride Committee [2022]
Gabe Martinez
Director
Preferred Pronouns: He / His / HimDirector Status: NewCurrent Term: First (1st)

Gabe is an Atlanta transplant, by way of New York City and originally hailing from Northern Virginia. He currently lives in the Virginia Highlands with his partner, Kyle, and their two dogs, Georgia and Caico.

Gabe is a seasoned strategy executive, currently serving as a Corporate Strategy and M&A leader for DuPont, a global multi-industrial company, and with 10+ years' experience in top-tier management consulting, most recently as an Associate Partner at Bain and Company. His experience has entailed guiding corporations through vision and strategy development, organizational effectiveness, and performance improvement. Throughout his professional career, he has also been heavily involved with corporate LGBTQ+ affinity groups, helping to drive equity for and retention of LGBTQ+ employees as well as supporting LGBTQ+ recruitment. Outside of work, he has served as an advisor for the Board of Directors at the University of Philippines. Gabe holds an MBA from the Tuck School of Business at Dartmouth and a BS in Commerce from the McIntire School of Commerce at the University of Virginia.

Gabe stated he serves on the Atlanta Pride Board because, " I wanted to find a meaningful opportunity to serve the LGBTQ+ community in Atlanta where I can apply my professional experience to good use."

Throughout his career, he has participated in his company's LGBTQ+ affinity groups, taking on leadership roles as his tenure progressed. Currently, he is the global chair for DuPont's LGBTQ+ and allies employee resource group, 'Pride'. In addition to overseeing the ongoing activities of 'Pride', he has worked with DuPont's DE&I and DuPont Pride leadership to refresh the 'Pride' mission and revamp the long and short-term strategy and priorities.

In his spare time, he enjoys trying new restaurants, taking in a play at one of the local theatres around Atlanta, and travelling internationally.

Gabe was elected to his first two (2) year term in 2021, and is currently serving his first year. He will be up for re-election in 2023.