THE MARCHES
The Atlanta Pride Committee produces three marches and the Festival Parade during the Festival Weekend. Details of the individual marches are currently being scheduled. We appreciate your patience while we design a safe and fun festival for everyone.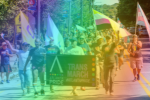 THE ANNUAL TRANS MARCH
Saturday, October 8 | Meet Time - 1:15 pm, Step-off Time 1:45 pm
This march celebrates and promotes visibility of the Trans community. The march took place on the festival grounds and all Trans people and Trans Allies were there with positive banners and signs. We encouraged individuals to make and bring signs supportive of Trans issues.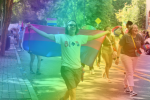 THE ANNUAL BI & PAN MARCH
Saturday, October 8 | Meet Time - 3:00 pm, Step-Off Time - 3:30 pm
The Bi + Pan March celebrates the Bisexual and Pansexual communities! Bi, pan folks of all gender identities, expressions, and their allies are welcomed to march!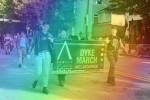 THE ANNUAL DYKE MARCH
Saturday, October 8 | Meet Time - 4:30 pm, Step-off Time - 5:00 pm
This march is dedicated to the empowerment of the women of Atlanta and beyond. The Dyke March, with its focus on women, unites to create an atmosphere of inclusion and community. The march is open to all women loving women (trans-inclusive) of any race, culture, orientation, ability, health, socioeconomic level, family structure, faith or age! This march is a time to demonstrate our commitment to nurture and build a new tomorrow, united for equality and justice. We called on all women of Atlanta and beyond to join us as we marched.