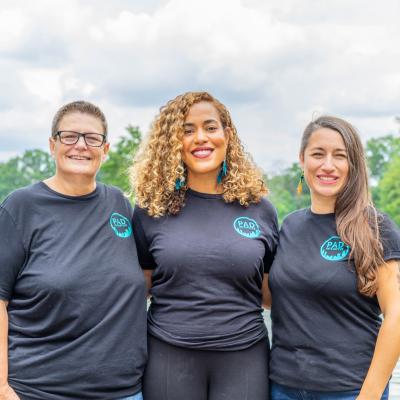 Policing Alternatives and Diversion Initiative
PAD was born out of the work and vision of Atlantans who were directly impacted by policing and incarceration and were committed to a new approach to community safety and wellness. Under the leadership of queer and trans people of color, Solutions Not Punishment Collaborative (SNaPCO) was formed in 2013 and rallied a broad coalition of Atlantans to champion criminal justice reform and propose more effective approaches to public safety.

In 2015, Atlanta City Council and the Fulton County Board of Commissioners unanimously agreed to authorized a Pre-Arrest Diversion Design Team. The team, which included representatives from local criminal justice agencies, local governments, neighborhood and faith leaders, directly impacted community members, and social services providers, worked over the next 18 months to design the local pilot of a diversion and care navigation strategy based on the Law Enforcement Assisted Diversion (LEAD) model. PAD launched in 2017, offering diversion services to the Atlanta Police Department and providing harm reduction-based case management, housing, transportation, food assistance and linkage to care that supported improvements in participant and community quality of life.

Today, PAD employs a two-fold strategy to divert individuals away from the criminal justice system: diversion for individuals who have been detained by law enforcement and are otherwise subject to arrest; and ATL311 Community Referrals for individuals who have been referred by community members through the City of Atlanta 311 non-emergency services line. PAD's the partnership with City of Atlanta 311 line is emerging as a national model, as the first time any city in the country has used 311 to dispatch community responders for concerns related to behavioral health or poverty.