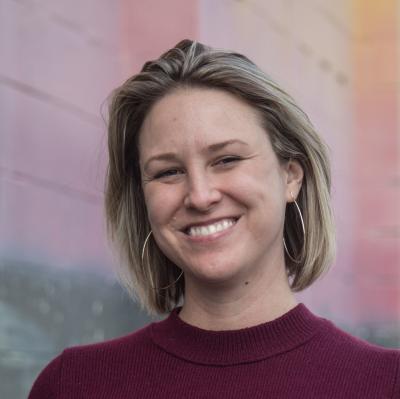 Photo Credit: Atlanta Pride Committee
Emily Porter
Director
Preferred Pronouns: She / Her / HersDirector Status: ReturningCurrent Term: Second (2nd)

Emily has served over five years in fundraising operations for both grassroots nonprofits and higher education, and an additional five years teaching communications and public speaking as an adjunct instructor. She has a deep passion for social justice, politics and queer community in the south, and once thought she would live the life of a tenured professor, writing about queer horror films.

Emily stated she serves on the Atlanta Pride Board because "I wanted to be a part of what APC stands for and where it wants to grow."

Emily has studied LGBTQ+ history in graduate school and taught gender and sexuality courses as an instructor in South Carolina. In her spare time she enjoys reading, baking, antiquing, and walking around her East Atlanta Village (EAV) stomping grounds with her partner Jeh and their ridiculously handsome pup, Gomez.

Emily joined the Atlanta Pride Board in 2019 with an initial one (1) year term, she was re-elected in 2020 to a full two (2) year term that she is currently in her second year serving. Emily will be up for re-election in 2022.