Festival Drag Performances
With regard to this year's festival being moved to a digital format, surveys we're put in place regarding content. Atlanta Pride received an overwhelming request to keep the drag cabarets a part of the digital festival.
While we are securing spaces for filming, we are asking that anyone interested in being part of the shows to submit an application. The application is live today through August 16 2020. THERE ARE NO AUDITIONS. Selections will be made within the following week and all submissions will be notified by email of the decision. On the application, you will be asked which show you prefer ( Starlight or Shooting Stars) but please remember that there are limited spots and minimum requirements for each cast. Casting will be done by the Chairs of the Entertainment Committee for Atlanta Pride and the Show Directors for each of the shows.
To ensure proper social distancing guidelines, all acts will be solo this year, filmed in a controlled environment with professional production quality, and in pre-determined time slots.
IMPORTANT MUSIC UPDATE
This year, the music selections will be a bit different than in the past. Because the shows are online, we have to secure the proper licensing for the music. We ask that only versions of the songs that can be easily found on popular paid streaming services be used as Atlanta Pride will have to acquire the usage licenses. While you may use a mix, the process will be much smoother to keep it simple. You may not use obscure versions or a random reworked version of a song. No live versions or anything with recorded applause may be used. We ask that you have three (3) options ready to go so that if you are selected for either show, you will be able to submit your music in a timely manner.
As per usual, the shows content will be PG 13, so nothing with foul, lewd, or overly suggestive language will be permitted.
Festival Drag Performances
Atlanta is home to a myriad of talented drag performers who showcase their abilities at multiple venues across the city. There are very few locales that are untouched by the impact of the drag community. Atlanta Pride seeks to showcase these talented folx in two Cabarets that are hosted during the Atlanta Pride Festival.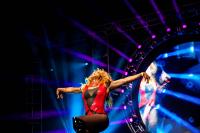 Starlight Cabaret
Closing out the yearly Atlanta Pride Festival on the main stage, the Starlight Cabaret is the LARGEST drag show in the South Eastern United States. The Starlight Cabaret boasts 25 to 30 drag acts at the top of their craft that live and work in the Atlanta Metropolitan area.
Eligibility Requirements:
5+ Years of Experience performing
Live in the Atlanta Metropolitan Area (within 30 mile radius of the Perimeter)
Strong and diverse presence in the Drag Community.
Shooting Stars Cabaret
Atlanta has so much drag talent, and just not enough room to house it all under one show. We believe in showcasing as much talent and entertainment as we can, so the Shooting Stars Cabaret was born. This show is for both established and up and coming drag entertainers (by audition).
Eligibility Requirements:
1+ Years of Experience performing
Live in the Atlanta Metropolitan Area (within 30 mile radius of the Perimeter)